At TD Ameritrade, we give you what you need to define your path and achieve your goals. Clear vision and leadership. A team that embraces challenges through collaboration and open communication. The opportunities and resources to realize your professional and personal ambitions. It's called empowering you to do what you do best. So we can all succeed by doing what's right.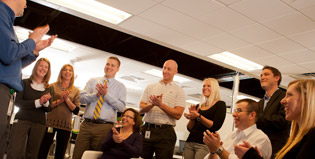 What does it mean to be client-centric and put integrity first? It means focusing on people rather than just the bottom line. We actively foster a work environment that empowers everyone to do their best. Where individual voices are celebrated and teams are united by common values and goals. And where no outstanding effort goes unrecognized.
GREEN SUITS US

More than 20% of our buildings are LEED certified (LEED Gold or Silver Certification by the United States Green Building Council) or pending certification, including our corporate offices in San Diego and Omaha.

EMPLOYEE ENGAGEMENT SURVEY

This year, we had 97% participation with 89% engagement, putting us in Towers Watson's Best in Class Benchmark of the highest performing U.S. companies for the 2nd consecutive year.

TRAINING

From mentoring to intensive rotational programs to a vast repository of educational resources, our innovative training programs empower our team members to realize their potential.

BUILDING A BETTER COMMUNITY

At TD Ameritrade, we're all about making things better where we work and live. Each year employees receive 8 paid hours for volunteer work to make a difference in their communities.

DIVERSITY

We strive to create a workplace in which people of diverse backgrounds, ethnicities, genders, perspectives and lifestyles are encouraged to bring their ideas and experiences to the table.